Sustainable vacations in Franconia
Travelers can journey through Franconia close to nature and in an environmentally friendly way while spending enjoyable vacations at the same time. The Franconian vacation regions offer various possibilities for environmentally conscious vacations, in which the positive aspects for the environment, locals, and guests are put jointly in the foreground.
To protect Franconia's unique nature is one of the guiding principles when it comes to creating sustainable vacation offers. The 10 Franconian nature parks, for example, have set themselves the goal of preserving the unique habitats and landscapes, and to educate about the natural features there. Guests explore wide forests, river meadows, and rocky low mountain ranges on a variety of cycling and hiking trails.
And it is not only in the nature parks that sustainable accommodation offers a great alternative to conventional hotels. Whether in tree hotels, shepherd wagons, wine barrels, wooden pods, bike lodges, tree tents, "sleeperos" or floating holiday apartments - the focus is always on being close to nature. Furthermore, in some Franconian areas, specially designed trekking sites offer the opportunity to fall asleep with breathtaking views during a hiking tour in the evening.
In addition, the travel destination of Franconia provides a lot more for environmentally friendly holidays. From fair and sustainable local brands to markets with regional offers to traditional arts and crafts, there is a lot on offer in Franconia. Various initiatives are particularly committed to healthy nutrition, organic farming, and local economic cycles, thus promoting regionality, which feeds into the typical Franconian cuisine as well as Franconian wine culture and brewing traditions.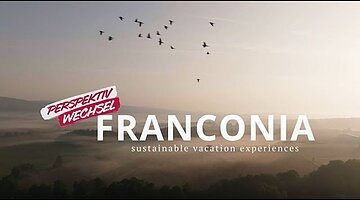 Sustainable vacation experiences in Franconia | Perspektivwechsel Franken (02:43)
Nature parks in Franconia
Sparkling water, wide forests and unique rock formations - explore some of Franconia's nature parks.