Rothenburg ob der Tauber
Master Drink. Romanticism. Magic.
Rothenburg is full of surprises: Protected by a ring of intact fortifications you will find many cozy corners and picturesque, narrow streets. You can indulge in a short course on German history or you can just sit back and enjoy the romantic ambiance.
It is no coincidence that the Romantic Route and the Castle Road cross in Rothenburg. Both roads are some of the oldest and best known tourist destinations in Germany. The city gets some of its world-wide reputation just from its location along both of them.
Rothenburg has served as a backdrop for many historical movies and local residents are well rooted in their history. You can find unique museums here: the Free City Museum, the Medieval Crime Museum, the Doll and Toy Museum, and the German Christmas Museum. The latter, together with the Christmas market, the "Reiterlesmarkt", makes Rothenburg the German Christmas capital. But the true magic of the city can only be experienced on a stroll through town and after a "Schneeballen", a typical shortbread pastry from one of the numerous pastry shops, or after a glass of Franconian wine in one of the old, established wine taverns.
At least according to local myth, wine has indeed played a pivotal role in the history of Rothenburg. The story of the "master drink" is being reenacted every year. According to it, during the Thirty Year War, the Catholic general Tilly intended to burn the city to the ground. But upon his arrival in the city, he was greeted with a welcome drink, a huge mug of wine that held 13 "Schoppen" or half-liters of wine. Tilly is said to have boasted that he would spare the city if somebody were able to empty the whole container in one. Story has it that the retired mayor Nusch was able to accomplish the feat and the city was thus spared.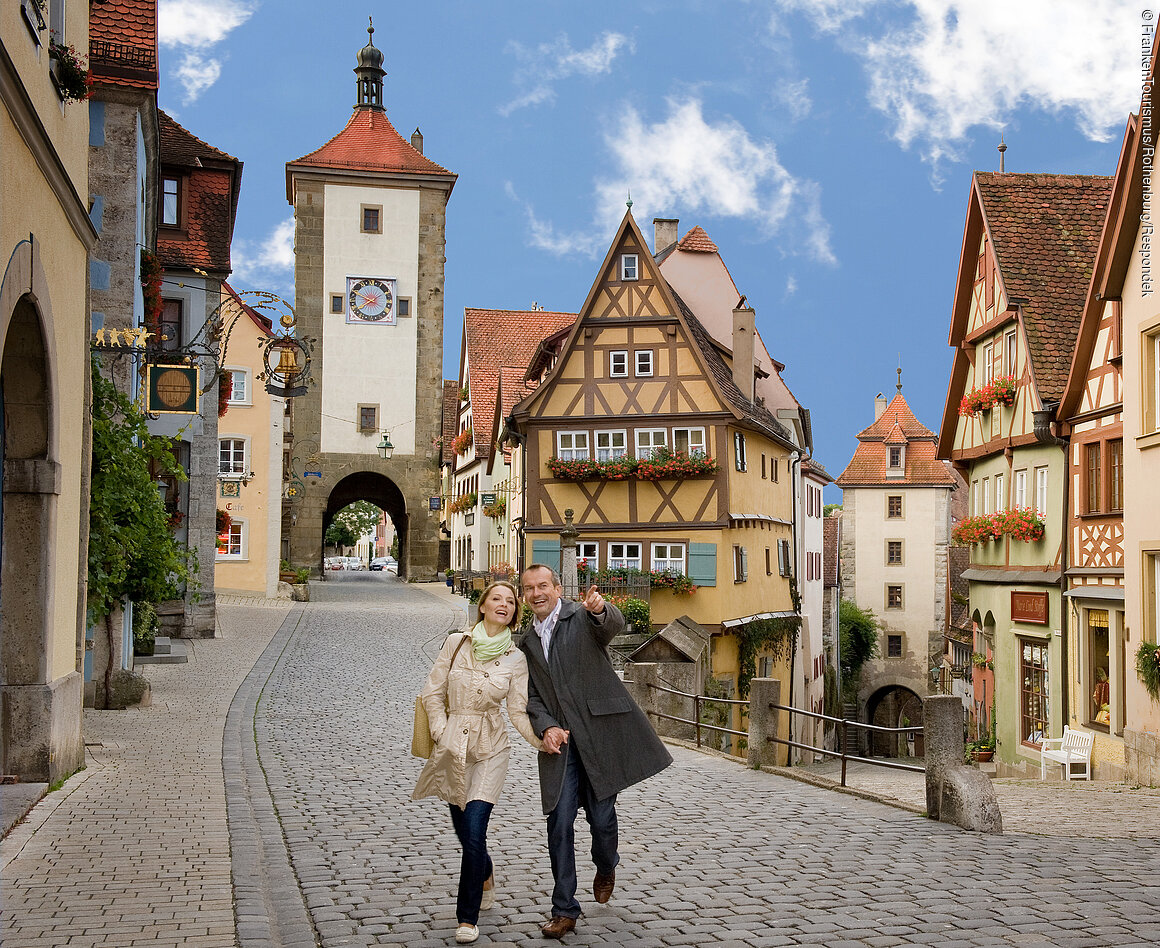 more information
website
Top-Highlights
Medieval Cityscape
Gothic Church St. Jacob
Intact and Usable City Fortifications
Imperial City Days
"Master Drink" Festival
Reiterlesmarkt